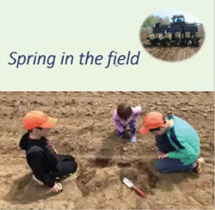 This short (5 minute) slide show/video by Joe Lawrence, Dairy Forage Systems Specialist with the Cornell University PRO-DAIRY Program, provides an overview of some of the activity that takes place on farms in northern New York in the springtime:
• Learn about how growing degree days (GDDs) affect the start of grass, alfalfa and corn crops.
• Learn when to measure alfalfa height to help identify an optimal date for a first cutting of an alfalfa-grass mixed crop in fields in the Towns of Martinsburg, Turin, and West Turin.
• See alfalfa snout beetle collection on a farm in the Town of Denmark to support the science pioneered with NNYADP-funded research to control this destructive crop pest known to impact at least 9 counties in New York State and areas of southeastern Ontario, Canada.
• Joe's son Ben provides some narration and joins "Dad" and siblings Colin and Caroline to demonstrate how to check the performance of a corn planter in the Town of Croghan.
All COVID-19 restrictions were observed during the filming.