The farmer-driven Northern New York Agricultural Development Program funds on-farm research to enhance production, profitability, and sustainability for Northern New York's livestock producers.
MOST RECENT LIVESTOCK RESEARCH PROJECTS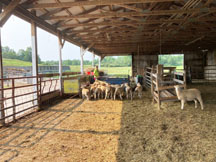 . Comparing Summer Lamb Feeding Strategies: Preliminary results (Sept. 2021)
FINAL REPORT 2022

.  Surveillance of Johne's Disease in High Risk Sheep Flocks in NNY
. . NNY Johne's Disease Project Fact Sheet
BEEF
"Where's the Beef" in Value-Added Dairy Beef Crosses, 2019
Increasing the Competitiveness & Profitability of Beef Stocker Operations in NNY, 2015

Connecting NNY Cow-Calf Producers, Stockers & Cattle Feeders, 2014
Tables
Disease Management
Infectivity of Fascioloides magna in NNY cattle herds, 2008
Grass-Fed Beef
. Grass-Fed Holstein Beef in NNY? 2004
. The Effect of Initial Weight & Winter Diet on the Performance, Meat Quality and Profitability of Holstein Beef for the Grass-Finished Market in NNY, 2004
Ultrasounding
. Ultrasounding to Improve Beef Quality/Consistency, 2009
. Using Ultrasound, 2008
. Collecting Real-Time Beef Carcass Ultrasound Data
. What is Real-Time Beef Carcass Ultrasound?

GOATS/SHEEP
. 2019:  Surveillance of Johne's Disease in High Risk Sheep Flocks in NNY
. . NNY Johne's Disease Project Fact Sheet
.  Internal Parasite Control in Sheep & Goats, 2015 (Powerpoint)
. The Effect of Birdsfoot Trefoil Forage on Barber Pole Worm in Sheep and Goat in NNY: Project Update, 2015
. Establishing Birdsfoot Trefoil for Pasture & Hay: April 2014
. Additional Innovations in Parasite Management in NNY Sheep & Goat Farms, 2013-14 
. Forage-based Parasite Control in Sheep & Goats in the Northeast US, April 2014
. Innovations in Parasite Management for NNY Sheep & Goat Farms, 2013
. NNYADP Research Evaluating Small Livestock Parasite Control Options, November 2013
LIVESTOCK PRODUCT MARKETING
Livestock Marketing Toolkit, NNYADP, 2006
Additional Livestock Production Resources
Cornell Cooperative Extension Associations of NNY
Cornell University Goat Extension on Facebook
Cornell University Department of Animal Science