Northern New York Agricultural Development Program
ECONOMIC IMPACT STATEMENTS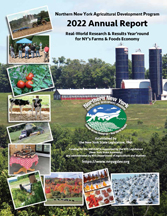 2022 NNYADP Annual Report: Real-World Research & Results for NY's Farms and Food Economy
The New York State Legislature established a dedicated agricultural research program in northern New York in 1961 and the Northern New York Agricultural Development Program (NNYADP) has steadily returned on investment with the ever-expanding and evolving farm-based economy across the state's six northernmost counties. This region is NY's #2 region for total agricultural sales. The 2022 NNYADP Annual Report highlights recent NNYADP research results; their value locally, statewide, and nationally; and how projects are responding to the region's unique climate, soils, natural resources, farming communities and economic growth potential.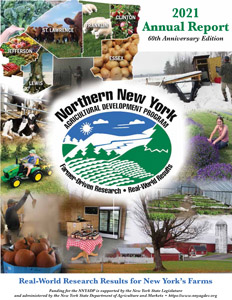 2021 NNYADP Annual Report: 60th Anniversary Edition
Recognizing Northern New York's potential to become an agricultural economic powerhouse, in 1961, the New York State Legislature established a dedicated agricultural research program for the state's 6 northernmost counties. Today that program is known as the Northern New York Agricultural Development Program. This annual report highlights some of the program's history and, more importantly, its critical contributions of real-world, practical research results for today's agricultural industry: from water quality and ground-breaking environmental conservation research to projects addressing local foods security, supporting a regional maple industry with a $12-15 million/year value, building best care practices for the dairy and livestock industries, identifying precision nutrient management standards for soil and crop health, and more…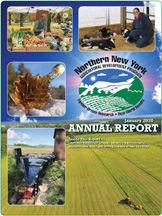 2020 NNYADP Annual Report
January 2019 NNYADP Annual Report: Practical Research, Real-World Results
Highlights progressive value to NNY & NY State agronomy, economy and environmental stewardship interests. Includes farmer and researcher testimonials about practical value, groundbreaking research.
January 2019: Growing into NNY's $10 Million Maple Industry Potential
NNYADP research responds to climate impact, new product development, leverages forward support for cloning NY's "sweetest trees."
2018: Critical Research for NNY with testimonials
NNYADP Dairy and Field Crops Research highlights: Corn Yield, Double Cropping, Emerging Pests, Managing Heat Stress in Calves & Cows, Preventing Winter Illness in Calves, Reducing Winter-Related Mastitis in Cows…
NNYADP Horticultural Research: 1st NNY Bee Health Survey, IPM, "Super Fruit" Trials Now On-Farm, Easier Way for Tomato Growers
NNYADP Maple Research: Advancing Sugarbush Health, Industry Growth: $10 million potential,  3/16 and 5/16-inch tubing under natural flow and artificial vacuum, season extension with birch syrup.
2017: Annual Economic Impact Report with testimonials
2017: Science-Based Results for NNY Crop Health & Growth
2017: Enhancing & Expanding NNY "Local" Food Production
2017: Growing the NNY Maple Industry 
2016 Economic Impact Report with NNYADP "Quotables"
2015
2014
2013
2012