Watch here and check with your local CCE offices for opportunities to learn about NNYADP-funded research in 2022.
Note: Please call ahead to confirm dates and details. Please watch for pre-registration requests prior to event date and be aware of any COVID-19 restrictions that may be in effect.
Watch for event postings for Dairy, Crops, Maple, Horticulture and other farming interests here.

  JANUARY 19, 2022: 12:15 pm -2:15 pm
Dairy Day Presentations on NNYADP Dairy Research Via Zoom
Learn about the NNYADP calf barn ventilation project case studies, the transition cow management and nutrition project, and the latest update on the milk quality e-learning training systems as 3 of 6 presentations. Program is free, but registration is requested. Click here for more details on these January 19 programs, as well as January 18 and January 20 programs, organized by Cornell Cooperative Extension (315-788-8450). Program is sponsored in part by NNYADP grant funding. Funding for the NNYADP is supported by the New York State Legislature and administered by the New York State Department of Agriculture and Markets.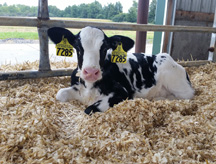 NNYADP Calf Care Research Example:
Determining the Enteropathogens Causing Neonatal Diarrhea and the Association with Antibiotic Use on NNY Dairy Farms (pdf)
Click here to learn about other NNYADP Dairy-Related Research:
https://nnyagdev.org/index.php/research-news/research-projects/