Watch here and check with your local CCE offices for opportunities to learn about NNYADP-funded research in 2021.
Note: Please call ahead to confirm dates and details. Please watch for pre-registration requests prior to event date and be aware of any COVID-19 restrictions that may be in effect.

Tuesday, December 7, 2021; 7-8:30 pm, Zoom Webinar: Free
CCE Northern NY Beef Cattle Nutrition Webinar: The Importance of Mineral Nutrition & Water
Join CCE agriculture & livestock educators to welcome presenter Dr. Tara L. Felix, Associate Professor & Beef Extension Specialist from Penn State. After the presentation: a producer discussion on calving, crops… This meeting qualifies for NY BQA recertification if you choose to complete and send in the recertification form to the NY Beef Council.
Register for free here: https://reg.cce.cornell.edu/BeefingUp_222. Questions? contact Abigail Jantzi at aej48@cornell.edu or 315-788-8450.
Click here to learn about NNYADP Livestock-Related Research:
https://nnyagdev.org/index.php/livestock/research/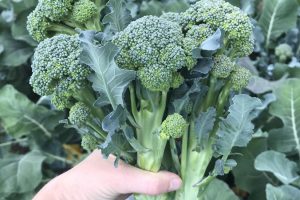 October 27, 2021; Lowville, NY
Extending the Growing Season in NNY High Tunnels
Join CCE vegetable specialist Judson Reid and Elisabeth Hodgdon for an afternoon focused on maximizing vegetable yields in high tunnels to get the most out of the growing season. Growing in high tunnels offers several benefits: Reduced disease pressure, warmer temperatures and greater environmental control, increase crop yield, and season extension. However, managing high tunnel crops differs in comparison to field crops in several ways. Careful attention to irrigation, soil fertility, ventilation, variety selection, and pruning methods are needed to grow quality crops. Jud will discuss common pitfalls seen on farm and how to avoid them so that your tomatoes, cucumbers, and other warm season crops continue to produce quality crops throughout the summer and into the fall. Elisabeth will present the NNYADP-funded variety trial research on early spring high tunnel salad cabbages and sprouting broccoli. These brassica crops present an exciting opportunity to increase May and June retail market offerings.
Cost: $10 per person pre-registration by October 25 / Walk-in that day: $20 per person
More Info:  Mellissa Spence: mms427@cornell.edu, 315-376-5270. To register: https://reg.cce.cornell.edu/HighTunnel_22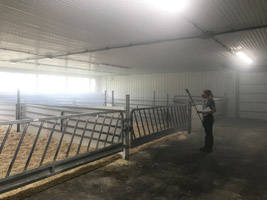 Calf Barn Ventilation Program with Fogging Demonstrations
July 27, 2021: North Lawrence; July 28, 2021: Carthage
With a Northern New York Agricultural Development Program (NNYADP) grant, Cornell Cooperative Extension Dairy Specialists Lindsay Ferlito and Casey Havekes are assessing and troubleshooting barn ventilation systems and their  impact on the health of pre-weaned calves on farms in northern New York in 2021. The researchers will demonstrate barn fogging, a process that makes air flow visible as part of calf barn ventilation and calf health workshops on regional farms on July 27 in North Lawrence and July 28 in Carthage. Registration is free, but space is limited. Contact 607-592-0290 or lc636@cornell.edu.