Watch here and check with your local CCE offices for opportunities to learn about NNYADP-funded research in 2021.
Note: Please call ahead to confirm dates and details. Please watch for pre-registration requests prior to event date and be aware of any COVID-19 restrictions that may be in effect.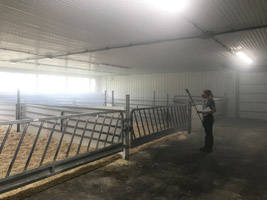 Calf Barn Ventilation Program with Fogging Demonstrations
July 27, 2021: North Lawrence; July 28, 2021: Carthage
With a Northern New York Agricultural Development Program (NNYADP) grant, Cornell Cooperative Extension Dairy Specialists Lindsay Ferlito and Casey Havekes are assessing and troubleshooting barn ventilation systems and their  impact on the health of pre-weaned calves on farms in northern New York in 2021. The researchers will demonstrate barn fogging, a process that makes air flow visible as part of calf barn ventilation and calf health workshops on regional farms on July 27 in North Lawrence and July 28 in Carthage. Registration is free, but space is limited. Contact 607-592-0290 or lc636@cornell.edu.

NNYADP Region County Fairs: 2021:
July 13-18: Jefferson County Fair, Watertown, https://www.jeffcofair.org/
July 20-24: Lewis County Fair, Lowville, https://www.lewiscountyfair.org/
July 27-Aug 1: Clinton County Fair, Morrisonville, https://www.clintoncountyfair.com/
August 3-8: Gouverneur-St. Lawrence County Fair, Gouverneur, http://gouverneurfair.net/
August 6-15: Franklin County Fair, Malone, https://www.frcofair.com/
August 18-22: Essex County Fair, Westport,  https://www.essexcountyfair.org/
February 24-25, 2021: Virtual North Country Crop Congress via Zoom
Learn the latest NNYADP Tile Drainage/Water Quality Research Results on Day 1
On Day 1 of the 2021 Crop Congress (February 24, 2021), NNYADP tile drainage/water quality research project leader Laura Klaiber, a nutrient management researcher at the W. H. Miner Agricultural Research Institute in Chazy, New York, will present the latest three-year data results of her  year-round, edge-of-field research trials that have captured field surface and tile drainage runoff with monitoring equipment before it leaves the fields on a farm in Keeseville, New York.
Registration:  contact your local Cornell Cooperative Extension office or Cornell University Regional Field Crops Specialist Michael Hunter at 315-788-8450 or meh27@cornell.edu


2021 Maple Weekends: March 20-21, 27-28, 2021:
Check the New York State Maple Weekends for updates: https://mapleweekend.nysmaple.com/
See this website for NNYADP maple research results.