Northern New York Agricultural Development Program research is provide the science needed to help the NNY region grow into its more than $10 million  maple industry potential (M. Farrell/Cornell).
The Northern New York region is already a maple sugaring powerhouse, but there is still room to grow, according to former Northern New York Maple Specialist Michael Farrell and Dr. Joe Orefice, past Uihlein Maple Research Forest Director, now with Yale University.
NNYADP-funded projects have developed research, outreach, and technical assistance opportunities that are providing producers and landowners with the tools needed to help the region realize its true maple industry potential.
Click on the links below to learn more: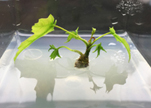 The Latest NNYADP Maple Research Results
NNY Maple Industry Potential for Growth
Producer-Landowner Collaboration
Additional Maple Resources:
Cornell Cooperative Extension Associations of NNY
Cornell Maple Program