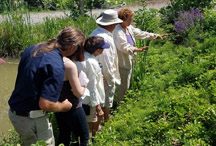 Wellesley Island, N.Y.: December 23, 2019.  Enchanted Edible Forest Garden grower Dani Baker of Cross Island Farms, Wellesley Island, N.Y., will be among the presenters at the 2020 Northeast Organic Farming Association (NOFA) conferences in Massachusetts and New York in January. Baker is a Northern New York Agricultural Development Program (NNYADP) Committee Member-Farmer.

Baker's presentations at the two NOFA conferences will focus on the edible forest garden she began developing in 2012. NNYADP research-related plantings in the certified organic, multi-purpose, perennial garden include the "super fruits" Juneberry, honeyberry, and aronia. The garden's fruits, nuts, berries, herbs, and other edibles are grown for u-pick and for sale at the farms and to restaurants.
Data from Baker's garden is adding to the NNYADP project evaluating high-antioxidant fruits for production in New York and the Northeast. The project established and supports New York State's only genomic research nursery of wild-collected and commercial cultivars of Juneberry.
NNYADP Juneberry project leaders Michael Burgess, Ph.D., a State University of New York botanist at Plattsburgh, N.Y.; and Michael Davis, Ph.D., Willsboro Research Farm Manager, Willsboro, N.Y., currently also have honeyberry, and aronia trials underway with Baker and other growers.

Participating in and attending workshops on NNYADP research results has also influenced the way Baker grows cherry tomatoes in her hoop house and her use of cover crops for weed suppression. Her latest NNYADP-related trial involves the application of biocontrol nematodes for pest management.
"I learned about the potential for using biocontrol nematodes at a Northern New York Agricultural Development Program meeting where Cornell University Entomologist Elson Shields spoke about the successful transfer of the biocontrol nematodes for alfalfa snout beetle management to pest management in berry crops. I am excited to see if the nematodes will help manage plum curculio in my garden long-term. This past year I did not have any issues; so-far, so-good," Baker said.
While the one-acre permaculture garden draws researchers, growers, chefs, home gardeners and food enthusiasts to the NNY farm, Baker credits the NNY food hub feasibility survey funded by the NNYADP and conducted by Cornell Cooperative Extension with analysis by Cornell University with creating a foundation for marketing her products to other areas of New York State.
"The Northern New York food hub project was a boon for our farm, opening up market opportunities for our livestock, fruits, herbs, vegetables and niche products in the Syracuse and Utica markets," said Baker, who co-owns Cross Island Farms in New York State's 1000 Islands region with David Belding.
Baker will speak at the NOFA Massachusetts Winter Conference on January 11, 2020, at Worcester State University, Worcester, MA. She will be among the presenters at the NOFA NY Winter Conference on January 17-19 at the Oncenter in Syracuse, N.Y.
The results of the NNYADP berry and other horticultural and local foods projects are posted at www.nnyagdev.org.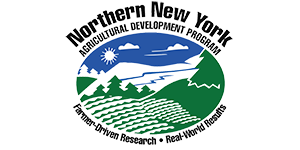 Funding for the farmer-driven Northern New York Agricultural Development Program is supported by the New York State Legislature and administered by the New York State Department of Agriculture and Markets.