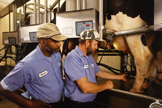 The September 10, 2020 issue of Hoard's Dairyman includes a Milk Quality section article on the NNYADP-funded project that is developing online training for milking staff. The article by project leader and Quality Milk Production Services veterinarian Paul D. Virkler and three colleagues summarizes year-one of the project and identifies issues that the research team is now working to address. One of those issues is one that many employers in all fields can relate to: how to keep employees engaged. For the dairy industry, literacy is also often a stumbling block.
Virkler notes that the pilot year of the project "clearly showed a need for ongoing milker training and that an online platform can work on some levels…".
With permission from Hoard's Dairyman, a W.D. Hoard and Sons Company, Fort Atkinson, WI, we share this link to "Online worker training has its hurdles" by Paul D. Virker, D.V.M., Paula Ospina, D.V.M., Valeria Alanis Gallardo, D.V.M., and Wolfgang Heuwieser, D.V.M.
NNYADP research report: Assessing the Effects of E-Learning Training Systems on Milk Quality and Dairy Parlor Performance