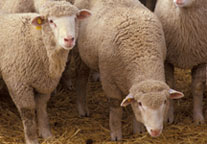 The success of the NNYADP-funded project for the Surveillance of Johne's Disease in NNY Sheep Flocks has led to Extension receiving a NESARE grant for a new Johne's disease study in NNY goat herds.
Click here to read the NNYADP final report and fact sheet on the sheep study, conducted by Cornell Cooperative Extension of St. Lawrence County and the New York State Department of Agriculture and Markets:
https://nnyagdev.org/index.php/livestock/research/.
For more information on the goat project, contact Betsy Hodge, CCE St. Lawrence County, 315-379-9192, bmf9@cornell.edu.