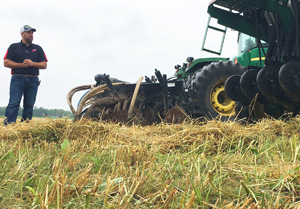 Left: Cornell PRO-DAIRY Forages Specialist Joe Lawrence speaks about no-till methods for dairy farms at the 2019 Soil Health Field Day at McKnight's River Breeze Farm in Chase Mills, N.Y. Right: NNY farmers and NNY ag professionals discuss no-till methods and soil health strategies at McKnight's River Breeze Farm in Chase Mills, N.Y. Photos: CCE North Country Regional Ag Team
Northern N.Y. ; October 30, 2020. Cornell University Cooperative Extension researchers funded by a Northern New York Agricultural Development Program (NNYADP) grant worked with farms in the NNY region to identify optimal sampling levels for seven key soil health indicators. This findings of this research work to more accurately assess the restorative effectiveness of farms' efforts to improve soil health over time.
Because soil health improvements are slow and subtle, more precise and accurate sampling strategies are needed. The goal of this NNYADP-funded research project was to identify specific sampling guidance for farms, county Soil and Water Conservation Districts (SWCDs), and other agencies that often use soil health testing as part of their environmental conservation and crop management work. Participating farmers were from Chazy, Fort Covington, Madrid, Malone, Sackets Harbor, West Chazy, and Willsboro. The complete report is posted on the NNYADP website at www.nnyagdev.org.
Soil health supports both crop growth and environmental stewardship. Soil type and texture, climate, topography, and land management all influence soil health. Improvement in soil health occurs gradually and can vary within a single field. Sampling sites for the NNYADP-funded project were selected with the use of aerial soil maps.

Cornell University Cooperative Extension (CCE) regional soils and crops specialist Kitty O'Neil, Ph.D., led the research with assistance from SWCDs, CCE, and the Cornell Nutrient Management Spear Program. Soil samples are collected in spring and fall at two soil depths in row crop fields on the participating farms.
Soil sample analysis determined the number of samples needed to detect a 10 percent improvement in soil health based on soil pH, soil organic matter, surface hardness, subsurface hardness, within-field phosphorus, aggregate stability, and soil respiration.
The number of samples needed varied widely across the indicators under evaluation. The least variable soil health indicator within a field in this project was soil pH. The most variable within-field soil health indicator was soil phosphorus.
The data from this project will be compared with historical yield data to investigate linkages for additional soil and crop management enhancement.
As a general guideline, based on this project's findings, the researchers suggest a minimum of 40 to 50 subsample locations per field for farmers who wish to begin monitoring soil health status and improvements over time on a broad scale. To evaluate individual soil health components, more intensive sampling can be done.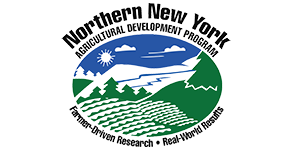 Funding for the Northern New York Agricultural Development Program is supported by the New York State Legislature and administered by the New York State Department of Agriculture and Markets. Learn more at www.nnyagdev.org.