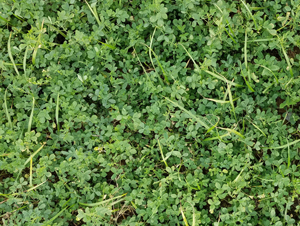 January 20, 2021.  The latest results of Northern New York Agricultural Development Program (NNYADP)-funded research to help regional dairy farmers achieve high quality forage grown as alfalfa-grass mix are now posted on this NNYADP website under the Research: Field Crops tab at www.nnyagdev.org/index.php/2020-nnyadp-projects. The research is evaluating the use of perennial meadow fescue varieties developed by European grass breeders and grown in combination with alfalfa on participating NNY farms.
"Our results continue to show that meadow fescue has great potential in a mix with high quality alfalfa to significantly improve forage quality. However, our data reveals that the grass yield and quality are not consistent across growing environments, highlighting the need for regional testing," says project leader and Cornell University Animal Science Professor Debbie J.R. Cherney.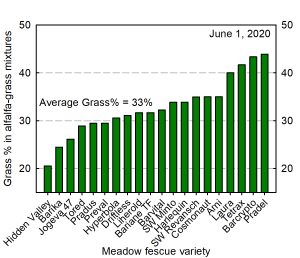 At left, a grass percentage graph from the NNYADP-funded Maximizing Alfalfa and Grass Quality in Mixtures research project. Find more interesting details and graphs in the complete report (see link above).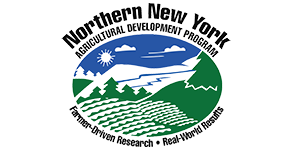 Funding for the Northern New York Agricultural Development Program is supported by the New York State Legislature and administered by the New York State Department of Agriculture and Markets.