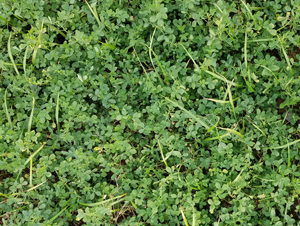 Hay & Forage Grower magazine recently (2/9/2021) featured an article by Editor Mike Rankin titled "Meadow fescue a star in alfalfa mixtures" about the NNYADP-funded alfalfa-grass mix quality research led by Cornell University Professor Debbie J.R. Cherney.
Cherney's 2020 project report is posted at https://nnyagdev.org/wp-content/uploads/2021/01/NNYADPJan2021AlfGrassReportFINAL.pdf.
This April 2020 photo shows the fall 2019-seeded planting of an alfalfa-meadow fescue mix at Garden of Eden Farm in Philadelphia, New York.