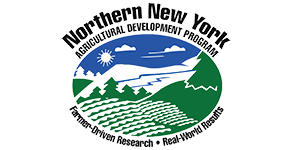 The 2021-2022 New York State budget includes $300,000 in support of the Northern New York Agricultural Development Program (NNYADP). State funding of the NNYADP provides for high priority agricultural research projects related to environmental and water quality conservation, local foods production, and climate adaptability for the farming sector. Seventeen projects are currently underway in 2021 focused on maximizing opportunities for the dairy, crops, horticulture, maple, and livestock production sectors.
Joseph Giroux, a Co-Chair of the farmer-driven program that provides farm-based research for the dairy, field crops, horticultural, maple and livestock sectors, said, "On behalf of our farmers, families, and farm-fed communities, we thank the New York State Legislature, including our local representatives and members of the Senate and Assembly Ag Committees, for the State funding that supports critical research related to local food production, natural resource conservation, climate adaptability for the agricultural sector, and the economic sustainability of our rural communities. We especially recognize Assemblyman Billy Jones for leading the effort to secure this critical funding," said Joseph Giroux, Co-Chair of the Northern New York Agricultural Development Program.
Giroux of Plattsburgh, Jon Greenwood of Canton, and Jon Rulfs of Keeseville serve as NNYADP Co-Chairs with nearly 100 farmers who evaluate and select research for NNYADP grants funding.
The New York State Legislature established the Northern New York Agricultural Development Program in 1961 in recognition of the opportunity for agriculture in the northern region of the state to become a major economic engine locally and for the state. The New York State Department of Agriculture and Markets administers the funding for the NNYADP. Learn more under any of the tabs in the menu bar and the News section at https://nnyagdev.org.