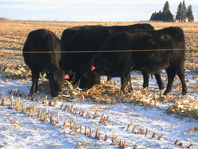 Tuesday, December 7, 2021; 7-8:30 pm, Zoom Webinar: Free
CCE Northern NY Beef Cattle Nutrition Webinar: The Importance of Mineral Nutrition & Water
Join CCE agriculture & livestock educators to welcome presenter Dr. Tara L. Felix, Associate Professor & Beef Extension Specialist from Penn State. After the presentation: a producer discussion on calving, crops… This meeting qualifies for NY BQA recertification if you choose to complete and send in the recertification form to the NY Beef Council.
Register for free here: https://reg.cce.cornell.edu/BeefingUp_222. Questions? contact Abigail Jantzi at aej48@cornell.edu or 315-788-8450.
Click here to learn about NNYADP Livestock-Related Research:
https://nnyagdev.org/index.php/livestock/research/