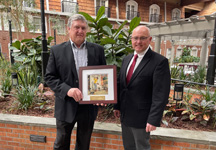 December 9, 2021. Northern New York Agricultural Development Program (NNYADP) Co-Chair Jon Greenwood was honored with the 2021 Distinguished Service to Agriculture Award during the 2021 New York Farm Bureau (NYFB) meeting yesterday in Albany, NY. More than 100 delegates representing 52 county Farm Bureaus from across New York State attended this 65th annual state meeting of the NYFB.
DISTINGUISHED SERVICE AWARD WINNER JON GREENWOOD: Text provided by NYFB
Jon Greenwood, a first generation dairy farmer, founded Greenwood Dairy in Canton, NY, in 1978 with 80 cows. Since then, the farm has grown to 3,000 tillable acres and 1,400 cows.  Jon has been deeply involved in New York Farm Bureau, beginning with Young Farmers. He served on the St. Lawrence County Farm Bureau Board for years and has been County President for many years. He's also served on various county committees. Jon competed in the NYFB Young Farmer leadership contest. Jon, and his wife Linda, were also on the NYFB State Young Farmer & Rancher Committee. Jon served on the NYFB State Board representing District 7 before being elected Vice President. He has also served as NYFB's representative on the American Farm Bureau Federation Advisory Committees. While serving as NYFB Vice President, he served as amember of the Farm Family Insurance Company Board  of Directors. Jon has been a County Legislator, member of the IDA board and numerous other local boards throughout the years. Jon was Northeast Dairy Producers Association (NEDPA) Chairman and a founding member.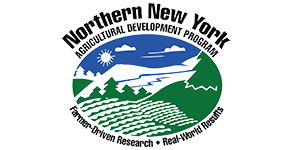 Jon is also Co-Chair for the Northern New York Agricultural Development Program (NNYADP). Jon and his wife Linda have three adult children, Clara, Ben, and Ted, and seven grandchildren. Ben and his wife Hibby work on the family farm.

Congratulations, Jon!