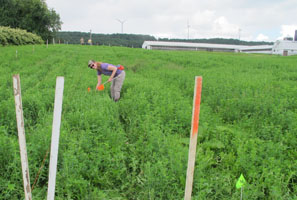 Lowville, New York; January 25, 2022.  Grace-Way Farm, Lowville, New York, is among several regional farms assisting the Northern New York Agricultural Development Program's research-based development of alfalfa varieties resistant to alfalfa snout beetle (ASB). ASB is the most destructive pest of alfalfa, a highly valued dairy and livestock forage crop.
In the summer of 2021, plant breeding specialists from Cornell University collected five-year-old surviving plants from field research plots at the Marc Laribee family's Grace-Way Farm in Lewis County. The plants are now being propagated in a Cornell greenhouse in Ithaca, New York, for the development of five new populations of ASB-resistant alfalfa. They will produce seed that will become the basis of a larger field trial to continue the development of alfalfa varieties with progressively-increasing resistance to ASB.
Two of the five populations of alfalfa established at Grace-Way Farm are advanced selections from the first NNYADP-funded ASB-resistance trials at Peck Homestead Farm in Great Bend in the 1990s. This greenhouse phase of the research also includes ASB-resistance alfalfa populations selected from NNYADP research plots at Sheland Farms in Belleville and Limestone Ridge Farm in Lowville.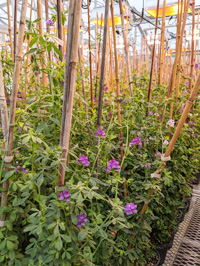 The development of ASB-resistant alfalfa varieties is part of a two-pronged management solution developed through the long-term commitment of the NNYADP and regional farmers. The research developed original science for the use of native New York nematodes as a biocontrol application that has proven to reduce ASB populations. The combined use of the biocontrol nematodes protocol in tandem with planting progressively-bred ASB-resistant alfalfa varieties is restoring alfalfa production on northern New York dairy farms.
Cornell University Plant Breeding and Genetics Assistant Professor Virginia Moore, Ph.D., leads the ASB-resistance breeding project. Cornell University Entomologist Elson Shields, Ph.D., pioneered the biocontrol nematode science that is now being applied to or tested with multiple crops in multiple states. Learn more about both of these NNYADP research projects at https://www.nnyagdev.org.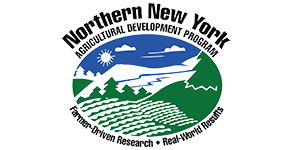 The New York State Legislature established the Northern New York Agricultural Development Program in 1961. Funding for the NNYADP is administered through the New York State Department of Agricultural and Markets.