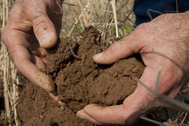 Canton, New York; May 16, 2022.  The results of soil research by the Northern New York Agricultural Development Program has revealed a relationship between soil compaction and variable crop yield on commercial farms in northern New York. The results of this investigation are posted in the report entitled "Is Soil Compaction a Big Driver of Yield" on the NNYADP website at www.nnyagdev.org.
"This project discovered a significant relationship between soil compaction within fields and yield, using yield stability zones based on both yield and consistency," said Northern New York Regional Field Crops and Soils Specialist Kitty O'Neil, Ph.D., with Cornell University Cooperative Extension (CCE). Dr. O'Neil led the research team for this NNYADP project.
Started in 2021, this NNYADP project has begun investigating the relationship between the variation in soil compaction severity in direct proportion to the variation in historical crop yield across a field. The project goal is to help farmers harvest optimal yield from all areas across their fields through improved soil health and ecological function within the soil.
"While soil compaction from the ground surface level to 12.6-inch depth was significant in all the yield zones in all the fields in our study, it was more severe in the consistently lower-yielding zones," Dr. O'Neil explained.

Dr. O'Neil and CCE Regional Field Crops Specialist Mike Hunter collected more than 360 soil penetrations in each of four fields, representing 18 different soil types total on working dairy farms in October and November 2021. In some cases, sampling at depths of 12.6 inches was not possible due to high soil resistance, as much as 1,130 pounds per square inch (PSI).
While the causes of yield reduction in the lower-yielding field zones may be numerous and variable across fields or years, the on-farm research in 2021 suggests one potential cause may be increased soil compaction as revealed by this first-year data.
The farmer-driven NNYADP prioritized this soil compaction research for attention in 2021. The need to better understand soil compaction on regional dairy farms was highlighted earlier in a 2019 NNYADP analysis of nine conventionally-tilled dairy farm fields, all of which showed serious soil compaction at the surface and at depth with considerable within-field variability.
The 2021 project additionally drew upon earlier, multiple-year NNYADP research results on zone management and yield stability mapping conducted by the Cornell University Nutrient Management Spear Program. For example, a related study revealed that 90 percent of fields had significantly lower yields – an average of 15 percent loss – on field headlands. The earlier field study did not measure soil compaction.
Dr. O'Neil cautions that the 2021 project data is preliminary, saying, "This first-time data provides a starting point for evaluating soil compaction impact on crop yield over time and will serve as a foundation for developing ways to assure healthier soils in support of high quality and high yield corn as a vital crop for New York's dairy and livestock industries."
Healthy soils resist erosion and more efficiently cycle nutrients, both critical to agricultural environmental stewardship goals.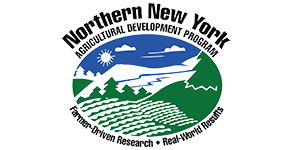 Funding for the Northern New York Agricultural Development Program is supported by the New York State Legislature through the New York State Assembly and administered by the New York State Department of Agriculture and Markets.