Chazy, New York; July 18, 2022.  The Northern New York Agricultural Development Program has posted the results of research analyzing how kernel processing impacts two types of corn hybrids. Project leader Allen Wilder notes that "farmers seeking to feed corn silage soon after ensiling may have an option with floury-type hybrids." The complete "Corn Silage Soluble Starch as Influenced by Kernel Processing Score and Kernel Type" project report is posted under About: Projects at https://nnyagdev.org.
Data from the research conducted in 2021 by Wilder, a forage agronomist with the Miner Institute, Chazy, N.Y., shows that processing of the floury hybrid increased starch digestibility and the soluble starch pool of the corn silage despite the processing resulting in a lower-than-desired kernel processing score (KPS) of 70. The vitreous-type hybrid processed at a consistently higher KPS in the trial.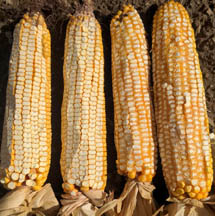 "A high-quality forage that is high in starch content is only good if the starch is available to your cows. The softness of the floury-type kernels may have allowed them to flatten without breaking apart in the processing in this trial," Wilder points out. "This research suggests that a different guideline may be needed in regard to optimal kernel processing of floury corn hybrids to create a better indicator of this starch availability for the floury type of corn hybrid."
Wilder also evaluated the impact of fermentation on starch availability in the two types of hybrids.
"Feedout of the floury hybrid, particularly in the initial stages of fermentation, may allow larger particles of starch to be fully digested in the cow rumen," Wilder notes.
Wilder's trial data indicated that fermenting at least 90 days in essential in maximizing both the digestible and soluble starch pools in corn silage regardless of the aggressiveness of kernel processing. However, he noted that, "while our maximum in-vitro starch digestion plateaued by the 90-day point, actual starch digestion in the rumen may still benefit from additional fermentation time since the greatest soluble starch levels were not achieved until the 135-day point."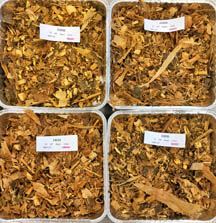 The degree of processing – more aggressively or less aggressively – did not significantly affect the content of starch or sugar in this trial. However, during fermentation, the heavily-processed vitreous corn hybrid showed a consistent numerical decline in starch content as compared to the moderately-processed vitreous corn. Wilder notes, "the hypothesis that this change in starch content was due to degradation into other pools (such as soluble starch or sugar) was not supported by the study results and the fate of the lost starch remains unclear."
Project One of First to Try CVAS Soluble Starch Analysis
This research project was one of the first of its kind to utilize a soluble starch analysis developed by Cumberland Valley Analytical Services, Inc. to
quantify the starch that readily moves into suspension in an aqueous environment such as cow rumen. Specific guidelines and animal performance benchmarks for this analysis are yet to be determined.
Wilder points to opportunities for future research, saying, "the value of soluble starch analysis as an indicator of cow performance is still unproven. More data is needed to be able to develop guidelines for that fraction in addition to the kernel processing score."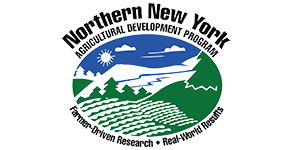 Funding for the Northern New York Agricultural Development Program is supported by the New York State Legislature through the New York State Assembly and administered by the New York State Department of Agriculture and Markets.