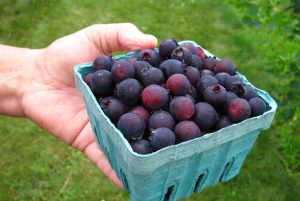 Willsboro, NY; August 2, 2022.  "Super fruits" research funded by the Northern New York Agricultural Development Program (NNYADP) in 2021 produced "firsts" for all four fruits studied: juneberry, honeyberry, aronia, and elderberry. Data on first fruit, earliest flowerings, and a first planting are reported in the NNYADP "Establishing New Commercial Fruit Crops for Northern NY" report for 2021 posted under the Research: Horticultural and Local Foods tab at https://www.nnyagdev.org.
"Our goal with this research is to identify specialty fruits that will successfully, sustainably, and profitably grow under northern New York's unique growing conditions to provide growers with additional income opportunities," says project co-leader Michael H. Davis, Ph.D.
JUNEBERRY
Davis manages the Willsboro Research Farm in Willsboro, New York, where this high-antioxidant, high-phytonutrient "super fruits" research began in 2013 with the establishment of wild-cut and commercial varieties of juneberry, with the help of project co-leader Michael B. Burgess, Ph.D., a SUNY Plattsburgh biologist and noted juneberry researcher. There are now 24 commercial, ornamental or wild varieties of juneberry in the NNYADP trials.
"In 2021, for the first time, we had ripe juneberry fruit by the end of June. The fruit was available the earliest it has ever been here with yield comparable to 2020," Davis says.


HONEYBERRY
Blue honeyberry research at Willsboro was started in 2018 to evaluate how well this perennial that is well-adapted to cold climates could fit into northern New York growers' cropping plans.
"In 2021, all 15 varieties of honeyberries here flowered much earlier and for a  longer time period than in 2020,with flowering taking place from the second week of April through the second week of May. Additionally,  we recorded our first honeyberry fruit yields in 2021," Davis points out.
Although the honeyberry plants in the NNYADP trial are still young and the yields are not indicative of mature plant production potential, this early flowering data establishes a baseline for tracking the plants' maturation as they grow.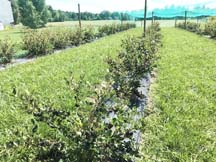 ARONIA
Production of Aronia in North America has grown to support a multi-million dollar industry offering more than 60 unique value-added products. Aronia plantings were established in the NNYADP trials at the Willsboro farm in 2017.
"In 2021, our four fruiting varieties and two ornamental varieties of Aronia all began flowering on May 14, fifteen days earlier than in 2020, and had excellent fruit yields with one exception for which there was not obvious explanation for the dropoff," Davis notes.
ELDERBERRY
With 95 percent of the elderberries consumed in the U.S. originating from plants imported from Europe, this fruit is not only a high-phytonutrient value crop, but also has the potential to become a cash crop, supporting the continued growth of elderberry production in the U.S.
"In 2021, we established our elderberry research plot with five American varieties and two European varieties. The plants are doing nicely without any disease or insect problems in their first year here," Davis says.
Commercial fruit growers and family farms across the northern New York region are applying the NNYADP research results, making their own on-farm "super fruit" plantings and providing input from their personal growing experiences to help characterize how well the fruits will fit into different cropping plans, soils, and conditions.
New York farms supporting the research in 2021 include Bush Gardens, Carthage; Cedar Knoll Farm, Lowville; Cross Island Farms, Wellesley Island; Essex Farm CSA, Essex; Northern Orchards, Peru; and Strong Roots Community Farm, Akwesasne.
"Interest in this Northern New York Agricultural Development Program-funded northern climate fruits research continues to grow," Davis says. "In 2021, we answered numerous requests for information from growers across New York State; welcomed visiting groups of farmers, gardeners, and students to tour the fruit trials; and, in January of 2022, presented an 'Introduction to Juneberry Production' at the New York State Fruit and Vegetable Expo."
Cornell University Horticulture Professor Dr. Marvin Pritts served as a project collaborator in 2021.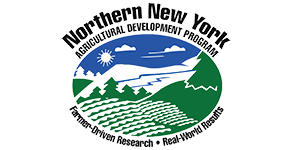 Funding for the Northern New York Agricultural Development Program is supported by the New York State Legislature through the New York State Assembly and administered by the New York State Department of Agriculture and Markets.