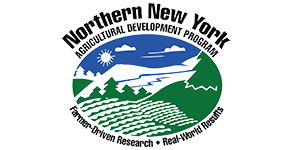 Northern New York; September 13, 2022.  The farmer-driven Northern New York Agricultural Development Program (NNYADP) has issued a call for farm-based research proposals for small grants funding for projects that will benefit the diverse agricultural production sectors of the six-county region that includes Clinton, Essex, Franklin, Lewis and St. Lawrence counties. The NNYADP grant guidelines, research ideas, and application form are posted at https://www.nnyagdev.org under the About: Project by Year tab. Applications must be submitted on or before October 28, 2022. Anyone with special needs for submitting a proposal may contact Michele Ledoux for assistance at 315-376-5270.
Projects are sought under the broad categories of dairy, field crops, livestock, local foods/horticulture, and maple and forestry products. Focus areas of interest include agricultural environmental stewardship, regenerative agriculture, northern climate-related adaptability, animal health, local foods production and marketing opportunities, and the application of nature-based solutions as well as innovative technology.
The New York State Legislature established the NNYADP in 1961. The program is noted for its fiscal efficiency and real-world results valued by farmers locally, statewide, and across the U.S. The NNYADP is nationally recognized for its on-farm agricultural tile drainage research, and its commitment to creating the science for a biocontrol management solution for multiple crop pests now in demand by crops' producers across the U.S., particularly corn growers. Farmers with the Idaho hops industry, valued at roughly $185 million, have recently made a first application of the biocontrol nematodes protocol developed in northern New York and shown to manage black vine weevil.
Funding for the Northern New York Agricultural Development Program is supported by the New York Legislature through the New York State Assembly and administered through the New York State Department of Agriculture and Markets.
MORE INFORMATION:
According to the last Census of Agriculture, New York State's northernmost region represents diverse farmer demographics, including young farmers under 35 years of age, new and beginning farmers of less than 10 years, small farm operators with 179 or fewer acres, and female farmers who are 37 percent of all farmers in the region. Three food hubs have started in northern New York since 2016. Recent on-farm enterprise additions in the region include A2A2 milk bottling, yogurt production, local foods sales locations, and essential oil distilling.