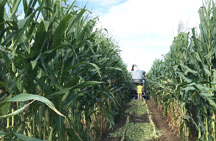 The 2022 New York and Vermont Corn Silage Hybrid Evaluation Program report is now available. The program is a collaboration by Cornell University and the University of Vermont. The reporting for 2022 includes trial data from Willsboro in Northern New York.
See the following links for:
. the full 2022 season evaluation report
. 2022 season summary with a quick glance table for maturity groups 80-95 days RM and 96-110 days RM and more data
. links to the 2022 and past seasons' corn silage hybrid evaluation reports
. forage systems information from the Cornell PRO-DAIRY program.
Photo courtesy of Joe Lawrence, Cornell PRO-DAIRY dairy forage systems specialist.