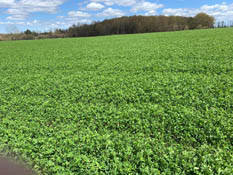 The February 2023 Crop Congresses to be held February 21 from 10:30 a.m. to 3:00 p.m. at the Cornell Cooperative Extension office in Lowville, New York, and February 22 from 10:30 a.m. to 3:00 p.m. at Miner Institute in Chazy, New York, will include updates on several Northern New York Agricultural Development Program (NNYADP) research projects. Both programs include lunch; register with 315-778-3929, tlm92@cornell.edu.
Agricultural entrepreneur Mary DeBeer will present information on the use of native New York nematodes as a biocontrol for farm pest management – a protocol built by long-term support from the farmer-driven NNYADP.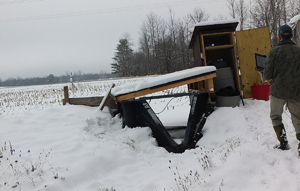 Cornell University Cooperative Extension Field Crops Specialist Michael Hunter will present the results of NNYADP-funded soybean herbicide trials, and a field crop weed control update, at both programs. The February 22nd Crop Congress also includes an update on NNYADP-funded on-farm agricultural tile drainage research by Miner Institute Research Scientist Laura Klaiber.
Other sessions at both locations include how to maximize on-farm use efficiency for high-price fertilizers by Cornell University Cooperative Extension Crops and Soils Specialist Kitty O'Neil, and an overview of seed corn maggot research by Ken Wise of the New York State Integrated Pest Management program. The program at Miner Institute also includes a presentation on the results of Miner Institute corn biologicals testing during the 2022 growing season by Miner Institute Forage Agronomist Allen Wilder.
MORE INFO: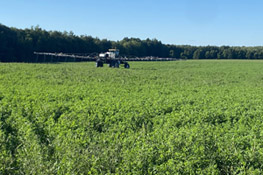 DeBeer established DeBeer AgriService and her own biocontrol nematode rearing laboratory in 2016 at her family farm and spraying service in Moira, New York. DeBeer's enterprise was sparked by research funded by the farmer-driven Northern New York Agricultural Development Program (NNYADP) aimed at developing a solution for an invasive pest that was destroying alfalfa crops fed to dairy cows and other livestock. DeBeer learned how to rear and apply the biocontrol nematodes with guidance from entomologist Dr. Elson Shields and research support specialist Antonio Testa, who pioneered the science and developed the protocol for using persistent biocontrol nematodes as a means for managing alfalfa snout beetle, corn rootworm, and a complex of berry weevils.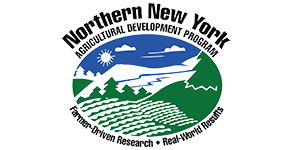 Funding for the Northern New York Agricultural Development Program is supported by the New York State Legislature through the New York State Assembly and is administered by the New York State Department of Agriculture and Markets.