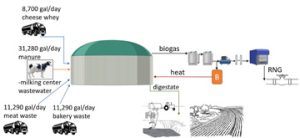 Learn the Economics of Co-Digestion of Dairy Manure and Food Waste: March 29 in North Lawrence
North Lawrence, New York; March 21, 2023. The farmer-driven Northern New York Agricultural Development Program (NNYADP) has announced the opportunity to learn about the economic feasibility of the co-digestion of dairy manure and food waste. The free program, hosted by the Cornell Cooperative Extension (CCE) North Country Regional Ag Team, will be held on Wednesday, March 29, 2023, from 11:30 a.m. to 1 p.m. at Stauffer Farms in North Lawrence, New York. Lunch will be included.
The program will feature speakers from the Cornell PRO-DAIRY program who conducted a case study project funded by the NNYADP. Agricultural Sustainability and Energy Engineer Lauren Ray, who led the project with Agricultural Engineer Peter Wright, will be joined by Dairy Environmental Specialist Angela George to present information on food waste sources and tipping fees, digested effluent storage and nutrient management planning, and biogas generation and energy use options.
The project report, "Economic Feasibility Case Study of Co-Digestion of Manure and Food Waste on a Northern New York Dairy Farm," prepared by Ray, Wright, and George with two on-farm case studies can be viewed on the NNYADP website under the Research: Dairy tab.
Dr. Stefan J. Grimberg with Clarkson University's Department of Civil and Environmental Engineering and director of the Center of Excellence in Healthy Water Solutions, and CCE St. Lawrence County Natural Resources and Sustainable Energy Educator Nick Hamilton-Honey served as project collaborators.
Funding for the Northern New York Agricultural Development Program is supported by the New York State Legislature through the New York Assembly and administered by the New York State Department of Agriculture and Markets.
Stauffer Farms is located at 925 County Road 54 in North Lawrence. For more information, contact Lindsay Ferlito at 607-592-0290.