CHAZY, N.Y. — Miner Institute's Director of Research Katie Ballard will make a presentation entitled "What the Cows Told Us: The Impact of Heat Stress on Northern NY Dairy Farms with Varying Heat Abatement" on Tuesday, April 4, 2023 at the Herd Health and Nutrition Conference in Syracuse, NY.
"Dairy cattle respond to heat stress in several ways that can impact their health, appetite, milk production, and reproduction as well the farm economics," Ballard said. "Fluctuating periods of heat stress during the summer do not allow the cows the time to acclimatize."
With small grants funding from the farmer-driven Northern New York Agricultural Development Program (NNYADP) from 2015 through 2019, Ballard led research into the impact of heat stress on dairy cows and calves and evaluated opportunities to apply heat stress abatement systems from sprinkler systems to fans to reduce that impact.
Ballard's studies have shown that episodic bouts of heat stress impact all farms to varying degrees regardless of the type of heat abatement system. Her project results suggest the different options farms can implement to make their cows more comfortable during periods of hot weather.
Ballard conducted her research in cooperation with regional dairy farms; Miner Institute research scientists, forage specialists, and data analysis personnel; and graduate students.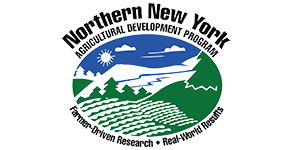 Funding for the Northern New York Agricultural Development Program is supported by the New York State Legislature through the New York State Assembly and administered by the New York State Department of Agriculture and Markets.
The 2023 Herd Health and Nutrition Conference is presented by the Cornell PRO-DAIRY program and the Northeast Agribusiness and Feed Alliance.
---
Thanks go to Miner Institute for its help in sharing this NNYADP research results news.