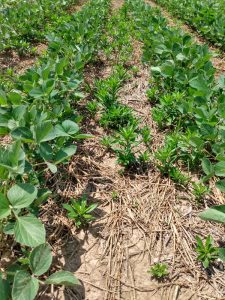 Results: Horseweed control ratings were greater than 90% in eight of 12 treatments tested on-farm.
Watertown, New York; May 23, 2023.  The Northern New York Agricultural Development Program has announced the results of on-farm field research trials identifying the effectiveness of different treatments for management of horseweed in soybean. The broadleaf weed, also known as marestail, has become increasingly resistant to the use of glyphosate as the primary seed control program for its management.
"Horseweed has made it necessary for soybean growers to use an effective soil-residual herbicide in tandem with their pre-planting herbicide treatment or as a separate application just prior to planting," Cornell Cooperative Extension North Country Regional Field Crops Specialist Michael Hunter explains. The spread of horseweed across New York State over the last years has prompted farmers to consider changing their management approach. In 2019, horseweed was identified on several farms in northern New York. In 2020, uncontrolled resistant horseweed contributed to significant soybean yield losses on some farms.
Hunter's research in 2021 and 2022 produced horseweed control ratings greater than 90 percent in eight of 12 treatments tested on farms that had horseweed populations with confirmed resistance to both glyphosate (Group 9) and ALS-inhibitors (Group 2). Horseweed resistant to multiple herbicides is becoming more common across much of New York State.
Hunter tested a dozen herbicides with different sites of action with the potential to help manage glyphosate-resistant horseweed in soybean. He tested the products alone or in a mix for the management of the weed prior to its emergence in the field.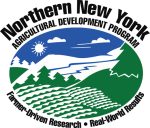 A complete report and table of the products tested is found online at www.nnyagdev.org under About: NNYADP Projects by Year: 2022. Funding for the Northern New York Agricultural Development Program is supported by the New York State Legislature through the New York State Assembly and administered by the New York State Department of Agriculture and Markets.
# # #