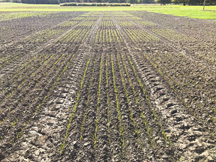 NNYADP Rye Cover Crop Research Adds Data to Local, State, National Programs
Northern NY region a high priority for this work
Northern New York (Canton, Chazy, Croghan, Mooers, Plattsburgh): July 31, 2023. The first-year results of cover crop research funded by the farmer-driven Northern New York Agricultural Development Program are contributing data to New York State, Northeast, and national programs. The regional project is being conducted by Virginia Moore, Ph.D., who is leading a new research program at Cornell University focused on breeding plants to support sustainable cropping systems in colder climate regions.
Moore is also a project director with the nationwide Cover Crops Breeding Network, the largest effort of its kind in the United States. Moore's research includes an effort to develop cereal rye as a cover crop.
Moore's first trials in northern New York planted six different varieties of cereal rye on four different dates in the fall of 2022 on working farms in Croghan, Mooers, and Plattsburgh, New York, and at agricultural research farms in Canton and Chazy in the fall of 2022.
Moore explains why Northern New York is ideal for her research.
"Northern New York's colder climate and year-round agricultural conditions make it a high priority region for this research. Due to the regional climate and soil variability within New York State, it is critical to expand cereal rye variety development to northern New York where fall and spring growing conditions vary from other parts of the state," said Moore.
Cereal rye is the most common cover crop in northern climate areas due to its cold tolerance and ability to suppress weeds. It also helps filter surface and groundwater, adds organic matter to support soil health, reduces soil erosion, and sequester carbon in the soil.
Participants in a focus group that Moore convened with northern New York growers, agronomists, Cornell Cooperative Extension specialists, and Soil and Water Conservation District (SWCD) staff identified challenges, including limited availability of cereal rye varieties suited to the northern New York region, a short planting window for cover crop seeding after fall harvest, and inconsistent growth in the spring. Moore's research is helping to address these challenges, which all impact the potential of cereal rye as a double forage crop.
Early Data Promising, Work Continues
"Data from the first year showed excellent emergence and plant vigor with all varieties at all sites. Most plots, regardless of the planting date, reached 100 percent emergence before the onset of winter," Moore noted.
The work continues with more data expected on the cereal rye stand quality, winter survival, maturity, termination, and biomass metrics later this year. A new planting will be made this fall.
Moore's NNYADP "Cereal Rye Cover Crops for Northern New York: Variety Selection and Research Needs" project report for year one is posted under About: NNYADP Projects By Year: 2022 at www.nnyagdev.org.
SWCD personnel in Clinton and Lewis counties assisted the plantings following cash crop harvest at the three working farms. Data from a trial conducted at Cornell's research farm in Freeville, New York, are also inducted in the report.
This NNYADP-funded research is also contributing data to the Northeast Cover Crop Council that has cereal rye trials located throughout the Northeast.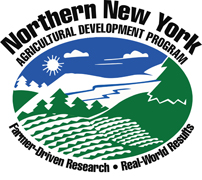 Funding for the Northern New York Agricultural Development Program is supported by the New York State Legislature through the New York State Assembly and is administrated by the New  York State Department of Agriculture and Markets.
# # #