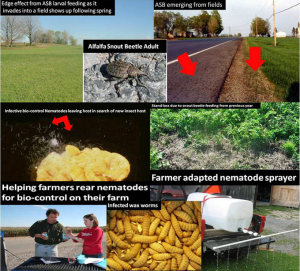 Protocols Developed for Limited and Mass Rearing and Multiple Methods of Application
Over time, Cornell University entomologist Elson Shields and Research Support Specialist Tony Testa have adapted their protocols for the use, rearing, and application of strains of Northern New York-native entomopathogenic (insect-attacking) nematodes that naturally persistent in the soil as a biocontrol sought by growers nationwide. Through their 2022 NNYADP Biological Control of Alfalfa Snout Beetle with Persistent Entomopathogenic Nematodes: Expanding a Single Farm's Success to an Area-Wide Biological Control Program project, they enhanced their persistent biocontrol nematode rearing and application protocols to more farmer- and applicator-friendly methods.
Breeding ASB-Resistant Alfalfa Attracts Commercial Seed Company Interest
The NNYADP also funded Cornell University plant breeding trials by Don Viands , Julie Hansen, and Jamie Crawford that successively bred alfalfa snout beetle-resistent alfalfa varieties that attracted a seed company's commercial-scale interest.
This groundbreaking biocontrol science research initiated with NNYADP grants funding in the 1990s culminated with the results of a project in 2022 that enhanced the  farmer- and custom applicator-friendly protocols for the use of New York-native persistent biocontrol nematodes for crop pest management in New York State and beyond. Seven farms and two agribusinesses in northern New York participated with the on-farm application of the new protocols developed by Shields and Testa. Their efforts were focused on and succeeded in making the mass rearing, delivery, and more convenient field application of the persistent biocontrol nematodes possible. The research included lengthening the shelf-life formulation for delivery and holding time prior to field application.
"This research created significant milestones in the practical terms of
making the use of the persistent biocontrol nematodes more convenient
for farmers and applicators to adopt this nature-based way of reducing populations
of alfalfa snout beetle, corn rootworm, and berry weevils – pests that have the potential for costly economic damage,"
said NNYADP Co-Chair and dairy farmer Joseph Giroux, Plattsburgh, New York, April 2023.
Shields and Testa developed a new liquid-based formulation that requires less water and less sawdust and achieves optimal ventilation and oxygenation with heat and humidity control for the mass-rearing of the persistent biocontrol nematodes. They also developed a means for extending the farmer/applicator's capacity for holding the biocontrol nematodes in solution for planning application around weather constraints and farm schedules.
In the spring and fall of 2022, as part of they successfully used the new formulation to rear persistent biocontrol nematodes for application to 3,350 acres in field trials across seven farms in Jefferson and St. Lawrence counties. Two commercial applicators cooperated with the research and evaluated the ease of the new field delivery and application methods.
A Tool for Combating ASB to Berry Weevils to Corn Rootworm and Other Pests:
The enhanced rearing techniques developed by Shields and Testa allow the northern New York-native persistent biocontrol nematode strains to retain their genetic ability to persist in soil for multiple years. It was this ability in northern New York farm fields initially treated with the persistent biocontrol nematodes for management of alfalfa snout beetle that also appeared to reduce corn rootworm populations. Subsequent research funded by the NNYADP, other funders, and farmers themselves has helped extend the use or testing of the biocontrol nematodes to multiple crops, including berries, hops, and potatoes in states nationwide.
The 2022 NNYADP report: Biological Control of Alfalfa Snout Beetle with Persistent Entomopathogenic Nematodes: Expanding a Single Farm's Success to an Area-Wide Biological Control Program  is posted on this website: www.nnyagdev.org.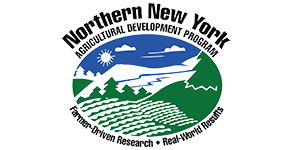 Funding for the Northern New York Agricultural Development Program is supported by the New York State Legislature through the New York State Assembly and administered by the New York State Department of Agriculture and Markets.
Use the links above to access: