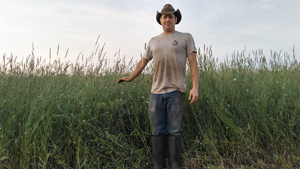 July 11, 2019.  As a testament to the success of the solution developed after many years of research that Cornell University entomologist Dr. Elson Shields and Research Support Specialist Tony Testa began at Peck Homestead Farm in Great Bend, NY, young farmer John D. Peck shares photos of his most recent alfalfa mix crop and notes, "The alfalfa that continues to grow well is a testament to the research done here after the devastation alfalfa snout beetle had caused."
The Peck Homestead Farm family hosted alfalfa snout beetle on-farm research trials, funded by the farmer-driven Northern New York Agricultural Development Program, for more than two decades in support of the long-term commitment required to develop a science-based, field-proven response to the devastating crop pest. The crop loss at the farm was significantly impacting milk production loss.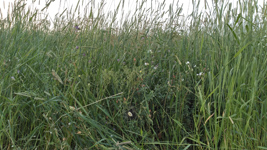 The development of the protocol for using native NY nematodes as a biocontrol for alfalfa snout beetle by Shields and Testa included an investigation into the pest's history in Europe, creating a greenhouse protocol for rearing the biocontrol nematodes, and field trials. They pioneered and proved the protocol, showing that the nematodes will persist and spread (as they have at the Peck farm: see photo at left), making it possible for a single application to inexpensively provide relief from the pest that left unattended can destroy an entire field of alfalfa in a single season.
Following the many years of testing and proving the protocol on northern NY farms, Shields and Testa were able to attract additional funding from such groups as the New York Farm Viability Institute, Northeast Sustainable Agriculture Research and Education program, and entities in Texas, New Mexico and other states to extend the biocontrol testing and use across New York State and well beyond not only to protect the alfalfa crops so valuable to the dairy and livestock industries, but other crops as well.
This groundbreaking science and research prompted a contingent of Russian agriculturalists to visit Northern New York and to specifically meet with Dr. Shields. On that visit, they also heard from John D.'s father, John E. Peck, about the early research efforts on their farm.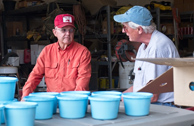 Shields and Cornell Cooperative Extension NNY Field Crops Specialist Mike Hunter have received New York State Integrated Pest Management Awards for their work on alfalfa snout beetle management (July 11, 2019): https://nnyagdev.org/index.php/2019/07/11/congratulations-ipm-award-winners/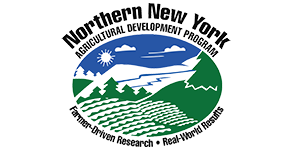 Click here for the research history of NNYADP-supported ASB biocontrol nematode research.