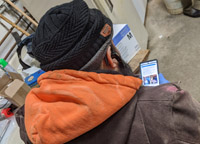 March 9, 2023; Canton, New York.  The Northern New York Agricultural Development Program announces that the results of dairy worker E-training research funded by the farmer-driven program, and conducted by Quality Milk Production Services, have recently been presented to the National Mastitis Council at its 2023 meeting in Atlanta, Georgia, and in an article now available worldwide through the JDS Communications Journal of the American Dairy Science Association. The journal is an open access resource that allows researchers to make their work globally accessible.
The article, "Dairy farm worker milking equipment training with an E-learning system," reports the impact of the 3-year "Assessing the Effect of E-Learning Training Systems on Milk Quality and Dairy Parlor Performance" project that developed and tested online training with the help of 15 commercial dairy farms in northern New York. The article cites previous research noting that the lack of training has been considered "one of the main reasons for lower detection of animal health problems, poor animal handling and management of calving events, and poor milking routines," whereas, it states that "farms with frequent training of milking personnel achieve faster milking speeds and lower rates of clinical mastitis."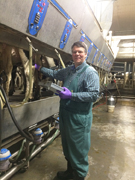 "During farm visits, Quality Milk Production Services began to see a need for training dairy personnel about proper procedures for tasks in the milking parlor and for collecting aseptic milk samples. This project allowed us time to develop a cloud-based platform as an adjunct to face-to-face instruction to improve and enhance dairy worker knowledge and performance in the milking parlor with a related benefit to cow health," project leader Paul D. Virkler, D.V.M., Quality Milk Production Services, Canton, New York, explained.
Fourteen of the 15 commercial dairy farms participating in the project had milking equipment problems as one of their top three risk factors for mastitis. For 13 of the 15 farms, inadequate milking routine was also a significant risk factor for mastitis.
Of the 95 dairy farm workers participating in this pilot project, 90 identified Spanish as their native language. The article notes the communication challenges inherent with language barriers and cultural differences as well as different levels of pre-farm arrival dairy experience and on-farm training.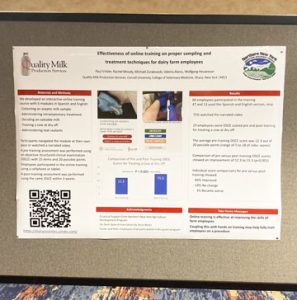 "Our research documents the importance of and need for efficient dairy worker training and employee-manager communications. The use of E-learning systems can serve dairy farms as a tool for developing an on-farm learning culture that incorporates effective training programs to support employees, management, cow health, quality milk production, and sustainable farm businesses," Virkler said.
"This project addresses an information gap with an on-farm, real-world approach to improve dairy employee performance with related positive impact on milk production and quality. We are pleased to see this study being published in a forum that can help farms not only here in northern New York but nationally and internationally to keep the dairy industry strong," said Northern New York Agricultural Development Program Co-Chair Jon Greenwood, Canton, New York.
The authors of the "Dairy farm worker milking equipment training with an E-learning system" article are Virkler; Valeria M. Alanis, a Cornell University graduate student from the National Autonomous University of Mexico; W. Recker, Cornell College of Veterinary Medicine, Ithaca, New York; Paula A. Ospina, D.V.M., Lechear LLC, King Ferry, New York; and Wolfgang Heuwieser, D.V.M., Professor Emeritus, Freie Universitat Berlin, Germany.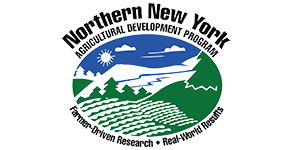 A link to the article (https://www.jdscommun.org/article/S2666-9102(22)00081-3/fulltext) and the 2019-2021 NNYADP project reports for this 3-year project are project are publicly accessible at https://www.nnyagdev.org under the Research: Dairy tab. Funding for the Northern New York Agricultural Development Program is supported by the New York State Legislature through the New York State Assembly and administered by the New York State Department of Agriculture and Markets.